September 8, 2008
Greetings everyone,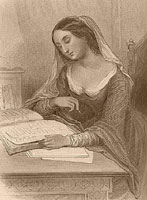 Along with Tristan and Isolde and Romeo and Juliet, Heloise and Abelard have a tremendous resonance within western culture's conception of romantic love from the Middle Ages until the present. Abelard and Heloise are often referred to in an attempt to understand the enigma of the love between two individuals and to fathom the unending struggle between men and women. This week we will read and discuss the medieval woman writer Heloise (1101-1162). At a young age, Heloise's supreme intellect was well-known and she continued as a successful independent abbess after her affair with the philosopher Peter Abelard. Although Heloise is most well known for this ill-fated relationship, she was a brilliant scholar, reader, and philosopher in her own right.
Heloise's writings trace her struggle to make peace with a life to which she did not completely consent. When Heloise was a young woman, she was sent to live with her uncle, the canon Fulbert, and later she became the pupil of the brilliant but polemical philosopher Abelard. Heloise and Abelard fell in love but kept their relationship a secret. With a clandestine marriage and a son in hiding, Heloise went to live at a convent in Argenteuil at Abelard's urging. Her uncle and other relatives believed Abelard had cast her off, and in revenge, Abelard was castrated, an event he represents in his Historia Calamitum (History of My Calamities).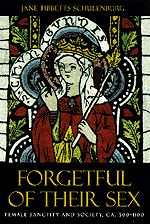 After this traumatic event, Abelard became a monk and Heloise, a nun. They no longer saw each other but rather corresponded through letters. These missives are a deeply philosophical remembrance of their love and attempt to reconcile that love with the monastic life to which they came. Both authors explore the impulses of human nature while reflecting on the purity of intention in religious life. Although traditionally, many historians claimed that Heloise could have never been the author of such learned letters in Latin that demonstrated rhetorical and literary skills, now the authenticity of this correspondence is widely recognized. Many consider these letters to be not only the best-known records of early romantic love but also testimony to an outstanding woman intellectual of the twelfth century, who once said, "wholly guilty though I am, I am also, as you know, wholly innocent."
The audio program you will hear for this week is a program from a series on medieval women produced in 1995 through Wisconsin Public Radio's University of the Air. Listen as hosts Emily Auerbach (UW Professor of English) and Norman Gilliland interview Professor Jane T. Schulenburg about Heloise and Abelard. Professor Schulenburg is an expert on medieval women's history and author of Forgetful of Their Sex: Female Sanctity and Society, ca. 500-1100.
[Continue to Page One]