Created by William Horton (2006), this model is most useful in 1) providing a lens for instructors to be intentional about the variety and balance of activities provided in a course, and 2) building scaffolded activity sequences that require progressively higher order thinking skills. The three activity categories are explained below.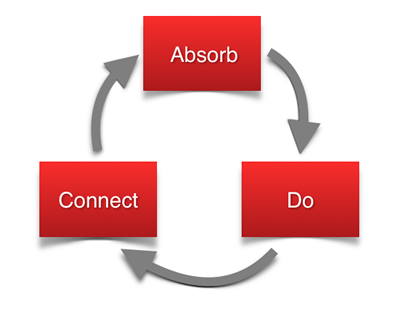 Absorb
Horton characterizes absorb activities as information designed to inform, inspire, and spark curiosity. In the absorb phase, students watch, read, or listen while extracting useful knowledge. The previous unit on instructional materials provided great depth into what Horton considers to be absorb-type activities. Presentation, reading text, watching a video, and viewing an image, all fit within the absorb category.
Do
Do activities put learners in action, seeking, and creating new meaning from information presented in the absorb phase and/or their prior knowledge. In the do phase, students work on their own or in groups to practice skills, analyze information, test assumptions, and actively explore.
Connect
Connect activities allow students to form linkages between new learning and the rest of their lives. The primary purpose of a connect activity is not to teach something new, but to allow students room to bridge gaps between their new knowledge what they already know. In the process, students exercise higher order thinking skills and make personalized meaning of a concept or skill.
Activity: Absorb, Do, Connect Share Back
The definition section above deliberately avoids making generalizations about which activities fit which categories. Like many issues in instructional design, these judgments are often a matter of perspective and interpretation. In this activity we will make associations as a group. Use the Google Docs interface below to share and brainstorm with your peers. Our goal is to not only think about the Absorb, Do, Connect framework as it relates to your specific course, but also to populate a list of ideas that help the broader learning community see new possibilities for activity design.
Open Absorb-Do-Connect Activity in New Window
How did we do this?
This is a Google Doc. Using a Google Doc instead of Word doc or PDF makes it easy to make changes and update your schedule or other documents as needed without having to re-upload the document into your learning management system. Once you have completed your document, you can easily share the link or embed your Google Doc (or other Google applications). Follow these tips to embed and resize the Google Doc in the course management system. UW-Madison provides a number of Google apps that you can use with your UW-Madison NetID and password.
Reference:
Horton, W. (2006). E-learning by design. San Francisco, CA: Pfeiffer.
Optional Resource:
This website provides many examples of Absorb, Do, and Connect activities provided by William Horton Consulting.
---
To continue, click the

button at either the bottom or top right of the screen.
---
TeachOnline@UW: Plan & Design